WorldSkills Europe General Assembly - Riga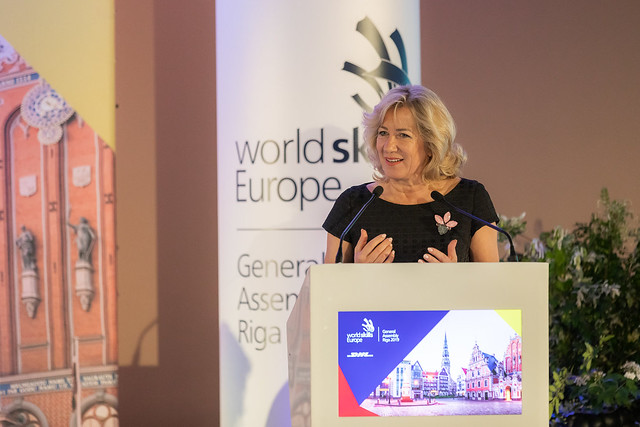 This year's annual WorldSkills Europe General Assembly saw delegates convene in Riga, Latvia from 5 – 8 June 2019. Thirty member countries attended the GA which focused on preparations for EuroSkills Graz 2020 and plans for future Competitions.
The event began with an Opening Plenary featuring a panel of distinguished speakers. After a formal opening speech by the President of WSE, Ms Dita Traidas, Latvia's Minister of Education and Science, Ms Ilga Suplinska, welcomed delegates before handing over to the President of WSI, Mr Simon Bartley, who was followed by Latvia's Deputy Head of Analytical Administration at the Ministry of Economics, Mr Janis Salmins, and finally by Member of European Parliament and France's former Minister of Finance, Mr Jean Arthuis.
Four meetings took place at the GA: MarCom, Strategy Committee, Competition Committee, and the GA itself.
Main announcements at the GA:
Two new members of WSE, Liechtenstein and Romania, were officially welcomed.
A change to the Constitution to clarify WSE membership criteria ­­­– from now on, only member states that are also members of the Council of Europe can become members: WorldSkills Europe Members are bodies representing a Vocational Education and Training system in a State's commerce, services, and industry, and recognised as such by the Organisation. Only an organisation from a State belonging to Europe, according to the Council of Europe Member states list, may become Members of the Association.
A discussion on the future direction of WorldSkills Europe as well as its relationship with WorldSkills International.
The timeline for bids to host EuroSkills 2024; Denmark and The Netherlands expressed interest in being hosts.
France presented its bid to host WorldSkills in the French city of Lyon in 2023. France is the only European country bidding to host the Competition; the other country is Japan.
Representatives of the Organising Committee of EuroSkills Graz 2020 participated in all meetings, providing reports on progress relating to the organisation of the Competition.
View all photos from the General Assembly on Flickr